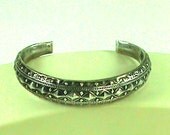 Extremely Rare Ornate Greek Gypsy "Musical Shaker bracelet" Puffed Sterling Silver Belly Dancer Cuff Beautiful Embossed design & makes music when worn, it has little balls of Silver in side so it rattles when shaken.
Exquisite Oxidized Diamond design with cool Geometric detail little dots cleverly placed between the perfect raised Diamonds & Unique pattern of the piece. It was made some wh...
Click Here to Visit My Etsy Shop!