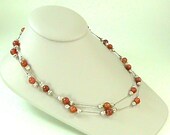 Gorgeous Red Carmel Dragon Agate Carnelian Gemstone necklace. Double Strand Bohemian Style knotted design with ribbed Silver oval beads. Glowing Colorful Crimson gems with a cool frosted effect.
This stone is called "Dragon Agate" it a triple A Grade carnelian that will light up your neckline with a rich Glowing Amber Color.
A flowing 19" Strand fully finished with a ...
Click Here to Visit My Etsy Shop!