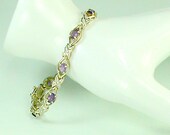 Royal Purple Amethyst Tennis bracelet. Done all in precious metals, Buttery 18K Yellow Gold overlay on a Solid 925 Sterling frame w/ Diamond Accents. X & O Classic designer pattern.
A Beautifully decadent piece with crossing X links connecting to the faceted Diamond shaped Amethyst links. You'll get lots of Sparkle & Shine because of its great design the light enters the gemstone from all sides ...
Click Here to Visit My Etsy Shop!