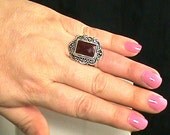 HUGE 7.70ct. Real Indian Ruby Checker Board Cut with a Swirled Framed Style Setting. Beautiful Raised design w/ Oxidized Sterling Silver, very thick quality piece. Fully finished with a great fit. 2 Tone Ornamental Vintage Sterling Silver & Elegant Indulgence!
Unique Cut Stone its a checkerboard cut on top & its a Cushion Cut. A full inch Framed gemstone that sits perfectly on the finger while ...
Click Here to Visit My Etsy Shop!