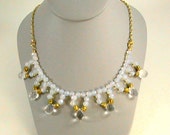 A truly Retro Inspired Classic of Luminescent faceted Opalite beads with Fancy Crystal Briolettes & Golden Beads in a Delicate looped design this high fashion Necklace can be used as a bracelet when desired! Has a very Tasteful Chic feel with Shimmery Elegance!
Comes in at 23" but if you'd like it shortened please ask as this piece looks Grand as a Choker
Click Here to Visit My Etsy Shop!