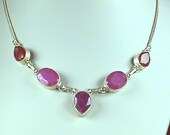 This Huge Ruby Necklace is a Sweet Treat for anyone who Loves Rubies, Beautiful Red Ruby
Stones cover the entire Neckline! This Necklace is All Silver Components With a Steel Chain.
Center Ruby is a Teardrop with two 18x13 Ovals, then two more teardrop stones at top. These
are Deep red Rubies & are color treated stones. Has a Silver S shaped Clasp!!!
18 Grams in Weight - 19&q...
Click Here to Visit My Etsy Shop!