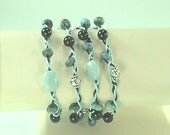 Bohemian Glam this Chic Macrame Style Quad Wrap Gemstone Bracelet has a colorful Aqua Blue Natural Amazonite Ovals, Blue Ocean Jasper Roundels & shiny Jet Black Agate Rounds done on Black Satin & Levi Blue Natural Cord. I picked some Cool Hypo Allergenic Bali beads that look just like an Old style of Nautical Helmet with a raised 3D bumpy shape.
A Trendy Hippie Glam design or Cool Punk Rock these Sout...
Click Here to Visit My Etsy Shop!