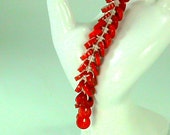 Colorful Bright Red Coral Disc woven bracelet. Very Chic Dragon Fin Bohemian Serpentine Design a Double layered Swirl & stacking discs on a white high grade Jewelry cord.
This OOAK hand Woven design was inspired by an Old World Japanese piece its a Hot Classic & a super Cool Piece of Jewelry + a Hematite Clasp for a nice color contrast
The Discs are Aprox. 10mm Wide & 2.5-3.5mm thick ...
Click Here to Visit My Etsy Shop!