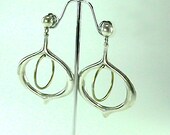 Great Design Authentic Vintage TAXCO Sterling Silver Earrings. Lots of Movement & Cool Shapes, Very Geometric with a Large outer Oval Hoop w/ a point on the bottom & a full 2.5" inch drop & an inner 1" Gold Tone Hoop. At the top an articulated 8mm Sterling ball attached to the post w/a 16g Sterling jump ring. All 3 pieces are fully Articulated!
The set weighs over a half an ounce of S...
Click Here to Visit My Etsy Shop!