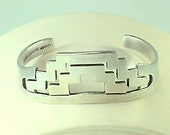 Unique TAXCO Designer Cuff bracelet. Thick Chunky Sterling Silver w/ a Cool Intricate Squared Off Geometric Cut Out design. Complex Old World Aztec Pyramid cuff but made in a Like New High Polished Sterling. Dramatic Art Deco Deconstructed 3D piece, 3 Levels of Architecture Crafted in all 925 , its just awesome!
It will fit about any wrist, great feel, it can be worn both ways, very neat piece, I ...
Click Here to Visit My Etsy Shop!