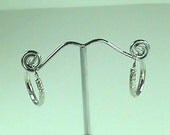 The Perfect Earring, very Tasteful & Sophisticated, they go with everything, not to heavy or to light, the perfect size all 14K White Gold Hoop Earrings w/ Diamond Cut Design. These have never been out of the bag but to be photoed. Elegant Sparkling little White Gold Hoops 3/4" Drop with leaver snaps in locking design, see photo two they are open.
They will come in original bag!
Click Here to Visit My Etsy Shop!