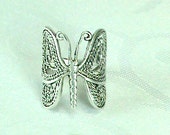 A Butterfly Symbolizes New Birth, the Change of life, New Beginnings & Taking Flight on Life's Path, this is the perfect piece to Spread your Wings & Fly!
Love Butterfly's then this will be your favorite, Full Finger Designed to completely cover the finger in a Beautiful Ornate Filigree Sterling Silver Butterfly. From the little antena's to the Swirls & Curls of Twisted Sterling Silver int...
Click Here to Visit My Etsy Shop!